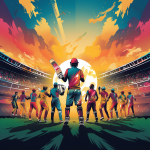 Unveiling the Magic of Why Fantasy Cricket Has Won Our Hearts?
November 2, 2023
Hey there, cricket enthusiasts! If you find yourself passionate about online fantasy cricket but struggle to secure those wins, worry not – you're in the right place. In this blog, we'll uncover some valuable tips and tricks to enhance your winning efficiency and elevate your fantasy cricket game. Get ready to turn your passion into victories with these practical strategies!
1. Know Your Players: The Key to Smart Drafting
The foundation of a winning fantasy cricket team lies in knowing your players inside out. Stay updated with player statistics, form, and injuries. Analyze their performance in different conditions and formats. Understanding the strengths and weaknesses of players enables you to make informed decisions during team selection. Follow player news, keep an eye on recent performances, and assess player consistency to assemble a well-balanced team.
2. Study Pitch and Weather Conditions: Adaptability Is Key
Cricket is highly influenced by pitch and weather conditions. A pitch favoring spinners might yield different results compared to a pitch favoring fast bowlers. Similarly, weather conditions can affect the swing and movement of the ball. Research the venue, analyze past matches, and consider the weather forecast. A team tailored to specific conditions gives you a competitive edge, increasing your chances of scoring big points.
3. Balance is Everything: Mix of Star Players and Underdogs
Creating a winning fantasy team requires a balanced approach. While star players are crucial for accumulating points, don't overlook the potential of underdogs. Lesser-known players often prove to be game-changers. A team comprising a mix of experienced stars and emerging talents ensures stability and unpredictability, making it challenging for your opponents to predict your moves.
4. Captaincy and Vice-Captaincy: Double the Impact
Choosing the right captain and vice-captain is a game-changing strategy. The captain earns double points, while the vice-captain earns 1.5 times the points. Select players who have a consistent track record and are likely to perform exceptionally well in the upcoming match. Your captain and vice-captain can significantly boost your points tally, so choose wisely based on current form and past performances.
5. Stay Updated During Matches: Adapt and Modify
Fantasy cricket is dynamic, and matches can change course rapidly. Stay glued to live match updates. Monitor player performances and adjust your strategy accordingly. If a bowler takes early wickets or a batsman is on a scoring spree, be ready to make swift substitutions during the match. Adaptability and quick decision-making give you an advantage, allowing you to maximize your points as the game unfolds.
6. Participate in Multiple Leagues: Diversify Your Strategies
Don't limit yourself to just one league. Participate in multiple leagues with different entry fees and team sizes. Diversifying your strategies across various leagues hones your skills. Experiment with different player combinations and captaincy choices. Learning from different experiences sharpens your intuition and helps you understand what works best for you, leading to improved decision-making in future matches.
7. Join Fantasy Cricket Communities: Learn from Fellow Enthusiasts
Joining fantasy cricket communities and forums provides an excellent platform for learning and sharing insights. Engage with fellow enthusiasts, discuss strategies, and gain valuable tips from experienced players. Sharing knowledge and experiences with a community of like-minded individuals enhances your understanding of the game. Learning from others' successes and failures broadens your perspective, enabling you to refine your approach.
8. Manage Your Budget Wisely: Value for Money Players
In most fantasy cricket platforms, each player has a specific price tag. Managing your budget effectively is crucial. While star players are expensive, identifying value for money players is essential. These players offer excellent performance relative to their price, allowing you to accommodate more star players within your budget. A well-balanced team within budget constraints maximizes your chances of winning.
9. Stay Calm and Enjoy the Game: Positive Mindset Matters
Lastly, maintain a positive mindset and enjoy the game. Fantasy cricket is meant to be entertaining and engaging. Don't let losses demotivate you. Learn from your mistakes, adapt your strategies, and keep improving. Remember, every match is a new opportunity to showcase your skills. A calm and composed mindset allows you to make better decisions under pressure, increasing your overall winning efficiency.
In conclusion, mastering online fantasy cricket requires a combination of knowledge, strategy, adaptability, and a positive attitude. By understanding players, studying match conditions, balancing your team, making astute captaincy choices, staying updated during matches, diversifying your strategies, engaging with communities, managing your budget wisely, and maintaining a positive mindset, you can significantly improve your winning efficiency.
So, gear up, apply these tips, and embark on your fantasy cricket journey with confidence. May your strategic brilliance and cricketing passion lead you to countless victories in the world of online fantasy cricket! Happy gaming!