What To Expect in Next Years for The Future of Fantasy Sports?
November 1, 2023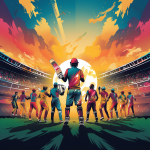 Unveiling the Magic of Why Fantasy Cricket Has Won Our Hearts?
November 2, 2023
Hey there, sports enthusiasts! If you're a fan of fantasy sports, you're in for a treat because the world of fantasy sports is evolving, and it's changing in exciting ways. In this blog, we're going to explore how the future market trends will shape the landscape of fantasy sports. Buckle up and get ready for a thrilling ride into the future of fantasy sports!
1. Mobile Dominance: The Game in Your Pocket
One of the most significant trends reshaping the world of fantasy sports is the rise of mobile apps. Imagine being able to draft your fantasy team, make trades, and follow live scores—all from the palm of your hand! Mobile apps are making fantasy sports more accessible and convenient. Whether you're on a bus, waiting in line, or relaxing at home, you can engage with your favorite fantasy sports platforms with ease.
As the mobile experience continues to improve, expect smoother interfaces, faster updates, and enhanced graphics. This trend ensures that you can enjoy your fantasy sports adventures anytime, anywhere, without missing a single moment of the action.
2. Esports Revolution: Beyond Traditional Sports
While traditional sports like football and basketball remain popular in fantasy leagues, there's a new player in the game—esports. Esports, or competitive video gaming, has taken the world by storm, and fantasy sports platforms are embracing this trend. Now, you can draft your dream team of professional gamers and compete in fantasy esports leagues.
Esports offer a diverse and ever-changing landscape, with new games and tournaments emerging regularly. This trend opens up a world of possibilities for fantasy sports enthusiasts, allowing them to explore different gaming genres and experience the thrill of virtual competition.
3. Data Analytics: Smart Strategies for Success
In the future of fantasy sports, data analytics will be your best friend. Advanced algorithms and data-driven insights will empower players to make strategic decisions based on real-time statistics and player performance data. This trend ensures a level playing field, where both newcomers and experienced players can excel by making informed choices.
With the help of data analytics, you can analyze player trends, assess matchups, and optimize your fantasy roster for maximum points. This trend not only enhances the competitive aspect of fantasy sports but also provides a valuable learning experience for players eager to improve their skills.
4. Social Interaction: Building Fantasy Communities
Fantasy sports have always been a social activity, but the future holds even more opportunities for interaction and community building. Social features within fantasy sports platforms will enable players to connect with friends, join leagues, and engage in friendly banter. Moreover, social media integration will allow you to share your achievements, discuss strategies, and celebrate victories with a broader audience.
Creating a sense of community enhances the overall fantasy sports experience, fostering camaraderie and friendly competition among players. Whether you're challenging your buddies or making new friends with shared interests, social interaction will be a cornerstone of the fantasy sports landscape.
5. Gamification: Turning Fantasy into Fun Challenges
Gamification is revolutionizing the way we approach fantasy sports. By incorporating game-like elements such as achievements, badges, and challenges, fantasy sports platforms are making the experience more engaging and rewarding. Completing challenges and earning rewards not only adds a layer of excitement but also motivates players to stay active and involved.
Imagine unlocking special badges for a winning streak, participating in themed challenges during major tournaments, or earning exclusive rewards for outstanding performance. Gamification transforms fantasy sports from a mere competition into an immersive, interactive adventure where every achievement is celebrated and every challenge conquered brings a sense of accomplishment.
6. Legal Clarity: Ensuring Fair Play and Security
As fantasy sports continue to gain popularity, the legal landscape surrounding these platforms is becoming clearer. Regulations and guidelines are being established to ensure fair play, secure transactions, and ethical conduct within the industry. This trend provides players with a safe and trustworthy environment to enjoy fantasy sports without worries about fraud or unfair practices.
Legal clarity also encourages more players to participate, knowing that their rights and investments are protected. With transparent rules and regulations in place, fantasy sports enthusiasts can focus on the game, confident that they are part of a legitimate and regulated community.
7. Personalization: Tailoring the Experience to You
The future of fantasy sports is all about personalization. Platforms will use AI-driven algorithms to understand your preferences, analyze your gameplay style, and provide customized recommendations. Whether it's suggesting players to watch, offering strategic tips, or curating content based on your favorite teams, personalization ensures that your fantasy sports experience is tailored to your interests.
This trend creates a more immersive and individualized journey, making you feel valued and engaged. As your fantasy sports platform understands your preferences, it can offer suggestions that align with your passion for the game, enhancing your overall enjoyment and involvement.
In conclusion, the future of fantasy sports is bright, dynamic, and filled with exciting possibilities. With mobile dominance, the rise of esports, data analytics, social interaction, gamification, legal clarity, and personalization shaping the landscape, fantasy sports enthusiasts can look forward to a thrilling and rewarding experience.
So, whether you're a seasoned fantasy sports veteran or a newcomer eager to join the fun, get ready to embrace these trends and embark on an unforgettable fantasy sports journey. The future is here, and it's bringing a whole new level of excitement to the world of fantasy sports!