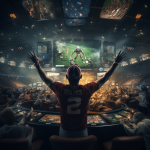 Embracing Market Trends for an Amazing Experience in Fantasy Sports
November 1, 2023
In the ever-evolving landscape of sports entertainment, fantasy sports have emerged as a powerhouse, captivating fans and enthusiasts alike. As we look forward to 2024, it's evident that fantasy sports are set to reach new heights of success. But what exactly will drive this phenomenon? Let's delve into the factors that will contribute to the unprecedented success of fantasy sports in the coming year.
1. Immersive Technological Advancements:
One of the key reasons behind the success of fantasy sports in 2024 will be the integration of cutting-edge technologies. Augmented reality (AR) and virtual reality (VR) will create immersive experiences, allowing users to visualize games in real-time, enhancing the thrill of fantasy sports. Imagine feeling like you're on the field, strategizing alongside your favorite players – that's the level of immersion technology will offer.
2. Enhanced User Experience:
User experience (UX) will be at the forefront of fantasy sports platforms. Intuitive interfaces, seamless navigation, and personalized recommendations will make it easier for both beginners and seasoned players to enjoy the game. Customizable dashboards and real-time updates will keep users engaged, ensuring they have the most enjoyable and stress-free experience possible.
3. Inclusive Participation:
The future of fantasy sports lies in its inclusivity. Platforms will focus on diversifying sports options, catering to a wider audience. Whether you're a fan of traditional sports like football and basketball or niche sports like esports and mixed martial arts, there will be fantasy leagues tailored to your interests. This inclusivity will encourage more enthusiasts to participate, fostering a sense of community among players.
Data analytics will play a pivotal role in shaping fantasy sports strategies. Advanced algorithms will analyze player performance, team dynamics, and historical data to provide users with valuable insights. This data-driven approach will empower fantasy sports enthusiasts to make informed decisions, adding a layer of skill and strategy to the game. As a result, players will find greater satisfaction in their successes, knowing they are based on intelligent choices.
Fantasy sports in 2024 will be deeply intertwined with social media platforms. Enhanced social integration will enable players to share their achievements, engage in friendly banter, and even form virtual leagues with friends and followers. This seamless connection between fantasy sports and social media will amplify the sense of camaraderie among players, making the entire experience more enjoyable and interactive.
6. Legal Support and Regulation:
The legal landscape surrounding fantasy sports will continue to evolve, ensuring a secure and regulated environment for participants. Clear guidelines and regulations will in still confidence in players, encouraging more individuals to join the fantasy sports community. This increased legal support will create a safe space for enthusiasts to enjoy the game without concerns about its legitimacy.
7. Gamification Elements:
To enhance user engagement, fantasy sports platforms will incorporate gamification elements. Achievements, rewards, and challenges will add a competitive edge to the experience, motivating players to excel and earn recognition. These gamified features will make fantasy sports not only entertaining but also addictive, keeping users hooked and enthusiastic about their participation.
In conclusion, the success of fantasy sports in 2024 will be driven by immersive technologies, enhanced user experiences, inclusive participation, data-driven insights, social integration, legal support, and gamification elements. As these factors converge, fantasy sports will continue to captivate the hearts of sports enthusiasts worldwide, ushering in a new era of excitement, camaraderie, and endless possibilities. Get ready to embark on an unforgettable fantasy sports journey in 2024 – the game is about to change, and you won't want to miss a moment of the action.